Mais de 30 mil pesquisas são realizadas todos os meses  pela palavra "Hipnose" na internet. As pessoas querem saber o que é Hipnose, querem entender melhor sobre o assunto e é exatamente isso que você vai descobrir agora!
1. É verdade?
Não vou apenas responder que "sim", vou ajudar você a entender por que algumas pessoas ainda duvidam que a hipnose seja verdade.
Nós sempre duvidamos do que não compreendemos, do que é impossível diante das regras que nos ensinaram. Se alguma coisa parece contrariar as leis da realidade, da natureza, da física, da capacidade humana, nós duvidamos que seja verdade.
E ninguém ensinou a você sobre o que é hipnose. Até agora…
Por exemplo quando sua avó era adolescente, se alguém dissesse que um dia seria possível conversar com uma pessoa em tempo real, por vídeo, de qualquer parte do mundo, ela duvidaria porque não existia tecnologia para isso em sua época. Se tentassem defender a ideia de uma impressora 3D, os efeitos especiais do cinema, duvidariam.
A Hipnose parece contrariar as leis do livre arbítrio e da consciência humana… "não é possível controlar a mente de uma pessoa" mas a hipnose mostra que é possível… E agora você vai entender como, e ainda mais, o quanto isso já faz parte do seu dia a dia e você nem percebe, ou você acha que suas decisões de compra são todas suas realmente (rs).
Tudo o que precisamos é de uma explicação aceitável ou de comprovação para acreditar.
Eu preferiria te convencer sobre a Hipnose com uma demonstração, mas restrito ao texto neste momento, vou explicar o que você precisa saber para acreditar, e se já acredita, então vai compreender muito melhor e de maneira simples o que é Hipnose.
Então por fim, SIM, Hipnose é verdade!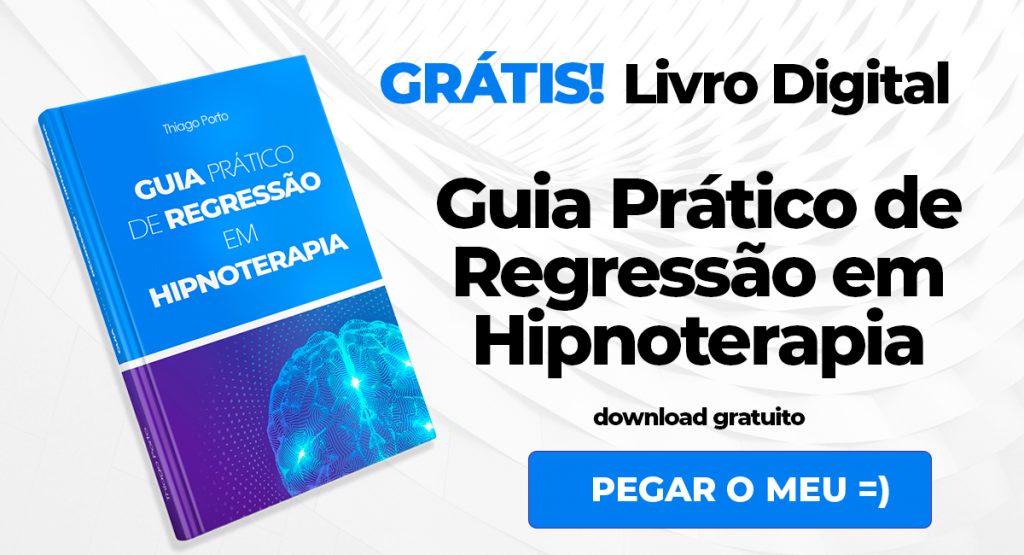 2. O que é Hipnose?
– Segundo a Associação Americana de Psicologia
É um estado de consciência que envolve atenção focada e consciência periférica reduzida, caracterizado por uma maior capacidade de resposta à sugestão.
ref.: https://www.apadivisions.org/division-30/about
– Segundo o Dicionário
Estado semelhante ao sono, induzido por sugestão e caracterizado por uma intensa susceptibilidade à influência do hipnotizador, a cujos comandos passa a obedecer sem oferecer resistência, a despeito do quanto eles sejam absurdos.
– Mas eu prefiro uma definição mais objetiva e clara
É um estado de atenção voltada para si. Simples assim =)
Explicando…
Todos temos uma característica mental que é a capacidade de prestar atenção. E temos duas opções, prestar atenção interna ou externa.
Atenção interna é aquela que gera pensamentos, lembranças, criatividade, emoções…
Atenção externa é aquela que observa, aprende, absorve, permite interação com estímulos que recebemos.
Então, o que é hipnose? Um estado da mente, onde a atenção está (de maneira controlada) mais dedicada ao interior e menos ao exterior.
Dissemos que a atenção interior é gerenciada pela mente Subconsciente e a exterior pela mente Consciente.
(Para saber mais sobre a Mente, recomendamos este artigo, clicando aqui).
– É um estado natural da mente
É comum encontrarmos esta referência sobre Hipnose, dizendo que é um estado natural da mente.
É verdade porque nossa mente entra em hipnose (atenção interiorizada) espontaneamente durante vários momentos em um dia. Aqueles momentos em que você se pega perdido no tempo, olhando para o nada, perdido em pensamentos.
Chegando a se desligar tanto do mundo externo que não ouve se alguém te chamar, que não percebe que está falando ao celular enquanto está procurando-o ou ainda chegando ao seu destino de carro sem se lembrar do caminho que passou.
Sua mente já conhece o estado de hipnose mas existe uma diferença, nestes episódios a mente entra em hipnose espontaneamente e acaba saindo de repente também, diferente de um estado de hipnose conduzido com técnicas que é mais controlado e assim permitindo a influência de comandos externos.
Vale comentar também que para crianças este estado é ainda mais natural, elas passam quase o tempo todo nele. Por isso crianças são tão sensíveis a influências externas e parecem viver em um mundo particular, com muita imaginação.
Por isso dissemos que é um mito acreditar que uma pessoa possa ficar presa em hipnose, é impossível já que é um estado que a mente já está acostumada a ir e voltar naturalmente.

3. O que é transe?
Em resumo, transe hipnótico é o nome dado ao estado de Hipnose.
Hipnose é a área de estudo das técnicas, protocolos e métodos para levar uma pessoa ao estado de transe e conduzir da maneira correta para alcançar as reações mentais esperadas.
4. Tem que ter hipnose para ter transe?
Não. A mente consegue entrar em transe mesmo sem a aplicação de técnicas diretas de hipnose.
Filmes são mestres em causar estados de transe, bons filmes, claro. Quem nunca se emocionou assistindo um filme ou perdeu a noção do tempo?
Quem nunca acessou memórias antigas ao ouvir uma música ou sentir o cheiro e o sabor de um prato sendo preparado?
Todas, características de um estado de transe.
5. Como funciona uma indução?
Já sabemos que a mente entra em transe hipnótico sozinha, porém para que seja hipnose, este estado deve ser iniciado, conduzido e encerrado de maneira controlada, porém a mente não sabe o caminho para conseguir sozinha, por isso, utilizamos métodos de indução para hipnotizar.
O primeiro passo são as Instruções Preliminares, chamadas de PreTalk. Estas instruções têm o propósito de orientar quais passos devem ser seguidos e como devem ser feitos.
Assim podemos afirmar que toda hipnose é uma auto-hipnose, já que quem faz tudo acontecer é a pessoa hipnotizada, seguindo as instruções que são dadas.
Existem métodos diferentes de indução e se você vai passar por uma vivência de hipnose, pode perguntar qual método será utilizado para indução. Os principais são:
– Relaxamento
Processo parecido com o de meditação onde são dadas instruções de relaxamento físico e mental.
– Sobrecarga do sistema Nervoso
Quando o sistema nervoso de uma pessoa é sobrecarregado com muita intensidade de estímulo, a mente entra em transe como uma tentativa de se auto preservar reduzindo a percepção do ambiente externo.
As formas mais comuns de se fazer isso são através dos sentidos básicos (visão, adição, tato, paladar e olfato) e do globo ocular. É por isso que existe (e funciona) aquela cena clássica de uma pessoa sendo hipnotizada ao olhar para um pêndulo se movendo de um lado para o outro.
– Estímulo Súbito
Basicamente um susto. Quando uma pessoa é assustada na intensidade correta e no momento certo, sua mente entra em transe.
Este método se destaca em demonstrações de hipnose na televisão ou internet por ser muito rápido. Geralmente o hipnotista fala a palavra "durma" no momento do estímulo súbito para que a mente entenda que deve entrar em hipnose.

6. Como funcionam as Sugestões?
Sugestão Hipnótica é o nome dado às instruções/comandos que uma pessoa hipnotizada recebe para seguir.
Para que funcionem, estes comandos devem obedecer à algumas regras, assim sendo interpretados corretamente e aceitos pela mente subconsciente.
Alguns exemplos destas regras são: Utilizar linguagem de metáforas, Compouding (padrão de repetição e persistência), sistema de representação, simbologia, ritmo da fala, tom de voz, etc.
7. Como é o estado mental e comportamental em Hipnose?
Primeiro ponto e mais importante, hipnose não é uma espécie de sono, ok!
Uma pessoa hipnotizada não está dormindo, não está apagada, não perdeu a consciência, não vai sair do seu corpo e nem será recebida pelo leão de Nárnia.
Ela está consciente – um pouco menos que o normal, mas está – ouve tudo ao seu redor, entende, compreende e percebe o ambiente em que está. Tem plena consciência das sugestões que está recebendo.
Pensamos que uma pessoa hipnotizada perdeu a consciência porque geralmente ela está de olhos fechadas e sem movimentos, e pensamos que está dormindo porque alguns hipnotistas usam a palavra "durma" em suas induções, mas agora você sabe que ela está apenas dando mais atenção interna a si e aberta para aceitar sugestões diretamente em sua mente subconsciente.
Exames de imagem como eletroencefalográficos comprovam esta afirmação com facilidade. O gráfico de uma pessoa dormindo é diferente de um gráfico da mesma pessoa em Hipnose.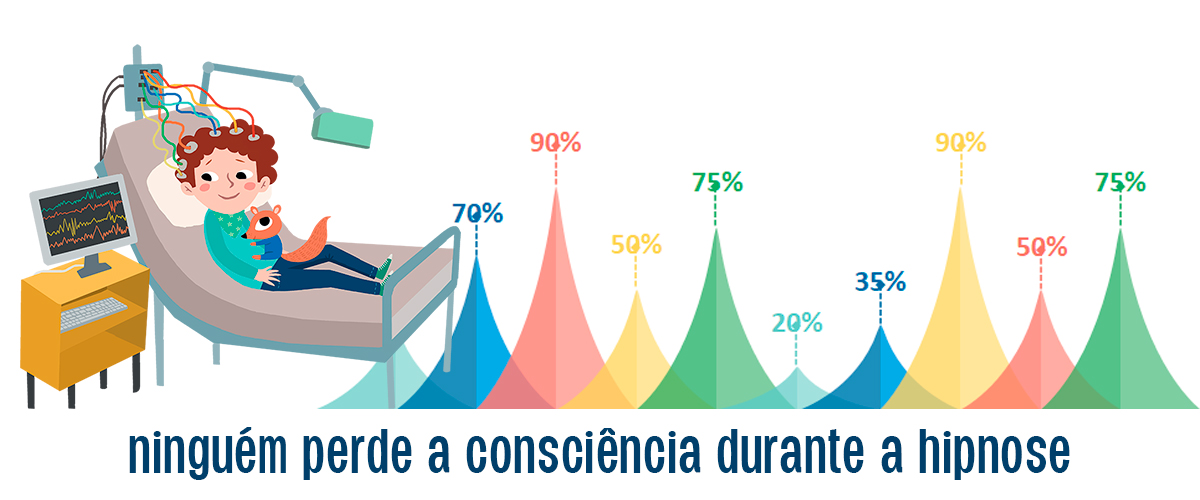 8. Quando vou perder a consciência?
Durante o estado de Hipnose, nunca.
Mas podemos dizer que o estado de hipnose é percebido de maneira diferente e individual entre as pessoas, algumas são mais susceptíveis a sugestões mais complexas (alucinações, delírios) enquanto outras não e isso pode tornar a experiência um pouco mais intensa para algumas.
De maneira geral, uma pessoa hipnotizada não faz nada contra sua vontade, nada que não faria se não estivesse em hipnose. Então não precisa se preocupar se vai contar algum segredo ou fazer algo contra seus princípios.
9. O que pode atrapalhar ou impedir a Hipnose?
O medo!
Se não houver um com nível de confiança estabelecido com a pessoa que está conduzindo a hipnose, a mente adotará um estado de resistência e não se entregará para seguir todas as instruções.
Mesmo se uma pessoa não acredita em hipnose, se não tem criatividade, se não consegue focar, se visualizar, concentrar, um hipnotista bem preparado tem ferramentas para ajudar a resolver, mas se houver medo da hipnose, pode ser impeditivo.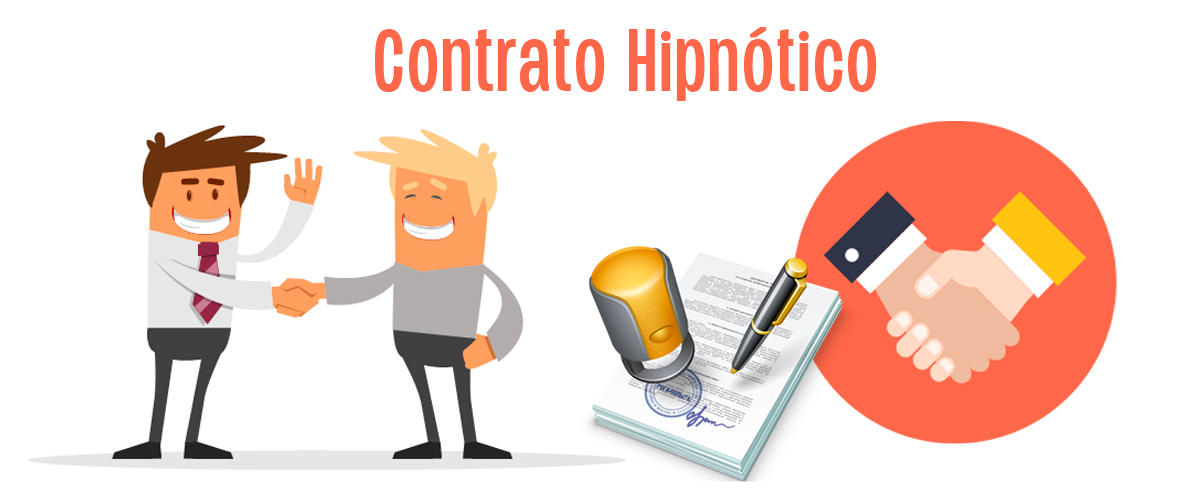 10. Todo mundo pode ser hipnotizado?
Qualquer pessoa que tenha saúde mental suficiente para seguir instruções, consegue entrar em hipnose.
Vale dizer que existem níveis de profundidade e de intensidade diferentes, e que estes níveis proporcionam experiências diferentes.
Podemos dizer que 100% das pessoas conseguem entrar em hipnose em um nível necessário para realizar Hipnoterapia, por exemplo, mas apenas 30% das pessoas consegue entrar em um nível mais profundo e intenso, que seria necessário para realizar um show de hipnose para entretenimento.
11. Quais são os métodos e técnicas para hipnotizar?
– Confiança
Técnicas para conquistar e estabelecer a confiança com o voluntário ou cliente de hipnose. O Rapport é uma ótima referência mas existem outras que são específicas de uma formação em Hipnose.
– Indução
Técnicas de indução que utilizem os métodos citados anteriormente (item 5) por exemplo, como Fixação Ocular, Expiral, Relaxamento Progressivo, HandDrop, ArmPull, Fascinação, Estímulos Monótonos, Visualizações,
– Estabilização
Técnicas de aprofundamento para estabilizar o estado de transe, impedindo que o voluntário ou cliente saia da hipnose sem querer. Contagem Regressiva, Meios de Condução e Música são alguns exemplos.
– Sugestionamento
Técnicas de comunicação com linguagem subconsciente capazes de alterar programações na mente de uma pessoa definitiva ou temporariamente, como referenciado no item 6 desta leitura.
– Emersão
Técnicas para finalizar um estado de hipnose de maneira positiva, impedindo que ocorra, por exemplo, um fenômeno que chamamos de "Ressaca Hipnótica", fazendo a pessoa sentir sinais parecidos com o de uma ressaca por bebida alcoólica como dor de cabeça, náuseas, mal-estar ou enjoo.
– Condicionamento
Técnicas para condicionar a aceitação de instruções sem que haja a validação do senso crítico da pessoa, um exemplo é a técnica YesSet.

12. Quais as Aplicações?
Ao mesmo tempo que é reconhecida como uma das áreas de estudo mais antigas sobre a mente e a saúde humana, a hipnose ainda está engatinhando em algumas áreas de aplicação.
Mas algumas já se destacam como ótimos níveis de maturidade e evolução:
– Entretenimento
Quando a hipnose é aplicada para realizar shows e demonstrações fazendo com que pessoas hipnotizadas tenham alucinações ou delírios de realidade alterada.
– Clínica
Quando a hipnose é aplicada para fins de tratamento da saúde mental ou fisiológica. Para conhecer mais sobre esta aplicação, leia nosso texto sobre Hipnoterapia.
– Auto-Hipnose
Quando a hipnose é aplicada sem a necessidade de alguém para conduzir, geralmente para controle emocional, autoconhecimento, programação de hábitos ou simplesmente para relaxamento.

13. Hipnose tem relação com Misticismo, Religião e Parapsicologia?
Ainda hoje, a Hipnose é interpretada por algumas comunidades como um fenômeno paranormal, místico ou religioso.
Simplesmente porque não possuem conhecimento sobre como a mente funciona. Quando passam a ter este conhecimento sobre neurociência, conseguem compreender a hipnose como um fenômeno completamente científico, que é.
– Religião
Posso garantir que não há nenhuma influência espiritual em uma pessoa hipnotizada, mas é possível produzir efeitos religiosos como pseudo-milagres durante a hipnose em uma pessoa altamente sugestionável.
– Parapsicologia
As pessoas que são acompanhadas pela parapsicologia como capazes de realizar fenômenos paranormais, normalmente quando hipnotizadas conseguem amplificar estes resultados, por isso a parapsicologia também se interessa pela hipnose.
Algumas pessoas, quando hipnotizadas, podem se tornar mais sensíveis a produzir efeitos que são atribuídos ao estudo da parapsicologia como formas de percepção extra-sensorial, telepatia, clarividência, precognição.
"O psicólogo e parapsicólogo Charles Tart, autor de uma tese de pós-doutorado sobre hipnose, relatou experiências de "hipnose mútua", em que cada uma das duas pessoas foram hipnotizadas uma pela outra. Tart relatou vários fenômenos curiosos em tais casos, incluindo eventuais fenômenos de telepatia"

14. Quais são as terminologias?
– Hipnologia
É o estudo da hipnose, principalmente os seus aspectos característicos, o seu exercício, as suas aplicações práticas, terapêuticas ou não.  ref: Wikipedia
– Hipnólogo
Pessoa que estuda Hipnose;
– Hipnotista
Pessoa que pratica Hipnose;
– Hipnoterapeuta
Profissional que pratica Hipnose como método terapêutico. Possui conhecimento em Hipnose e também em protocolos terapêuticos.
– Hipnose Clínica
Aplicação da Hipnose para tratamento da saúde física ou mental.
(Para saber mais sobre Hipnoterapia, recomendamos este artigo, clicando aqui).
– Hipnoterapia
Aplicação como método terapêutico ou associada à algum método, para tratamento da saúde mental.
15. De onde vem?
A Hipnose não foi criada, inventada, ela foi percebida.
Em diferentes épocas da história e em locais separados do planeta, por culturas e sociedades distintas, dando origem a escolas diferentes de hipnose.
No início foi utilizada como método de medicina, mas também já foi interpretada como prática de bruxaria. Mas graças a grandes e sérios estudiosos na história, a Hipnose foi compreendida como realmente deve ser, uma área de estudos e acesso às programações mentais.
Algumas destas escola nem sequer associaram a hipnose a seus estudos e levaram a interpretação justamente para o caminho do misticismo ou da religião.
Mas as escolas de interpretação científica cresceram mais e ganharam relevância pelo mundo. Atualmente as escolas mais conhecidas e maduras de são:
– Hipnose Clássica
É a escola mais antiga e madura de hipnose. Utiliza sugestões diretas para condução.
– Hipnose Ericksoniana
É uma das escolas mais novas de hipnose, fundada pelo Dr. Milton Erickson (1901 a 1980). Acima de tudo, utiliza essencialmente técnicas conversacionais para condução.
– Hipnose Não Verbal
Representa um conjunto de escolas ainda menos estudadas sobre hipnose. Utilizam principalmente técnicas de olhar e toques para condução.

16. Quem faz parte da História da Hipnose?
Ao longo da história a hipnose reúne a contribuição de milhares de pesquisadores para seu processo de desenvolvimento.
Vou citar abaixo alguns dos principais que fizeram mais contribuições históricas.
– Mesmer
Franz Anton Mesmer
Alemanha (1734 -1815)
Considerado Pai da Hipnose Moderna. O primeiro hipnotista.
Médico, linguista, advogado, músico e fundador da teoria do magnetismo animal chamada Mesmerismo.
Foi aluno de Padre Maximiliano Hell (Hungria 1720 a 1792), jesuíta e astrônomo que fazia experimentos usando imãs para curar.
Dava sugestões enquanto as pessoas tomavam banhos magnéticos.
Teve como aluno um dos professores do francês Allan Kardec (1804 – 1869).
---
– Braid
James Braid
Escócia (1775 -1860)
Médico-cirurgião escocês. Foi um dos pioneiros cientistas modernos a trabalhar clínica e investigativamente com o estado hipnótico e com a sua indução. De fato, é considerado o iniciador da hipnose científica. tornou-se figura de destaque na Hipnose nos países de língua inglesa.
Praticante de técnicas de indução por fixação do olhar.
Em 1843, em seu livro "NEURYPNOLOGY; OR THE RATIONALE OF NERVOUS SLEEP, CONSIDERED IN RELATION WITH ANIMAL MAGNETISM", ele usa os termos "Hypnotism" (Hipnotismo) , "Hypnotist" (Hipnotista) e "hypnotizing" (hipnotizando) do Cuvillers" (ao todo centenas de vezes) pela primeira vez na língua Inglesa.
Tentou mudar o nome para monodeismo mas não conseguiu.
---
– James Esdaile
James Esdaile
Escócia (1808 -1859)
Na década de 1840, o médico escocês a serviço do exercito britânico realizou mais de 300 cirurgias na Índia usando o "sono mesmérico" ou "anestesia hipnótica" como única anestesia (que levava 3 dias para ser aplicada). Era especialista em amputações.
Dois anos depois de James Esdaile foi proibido de aplicar suas técnicas, o clorofórmio foi inventado. Cerca de 50% das cirurgias ocorriam em óbito por decorrência da anestesia química.
O problema do estado Esdaile é que as pessoas não querem emergir por ser um estado de tranquilidade.
---
– Liébealt
Auguste Ambroise Liébeault
França (1823 -1904)
Fundador da Escola de Nancy – Escola da Sugestão.
Estudou sobre o efeito da Sugestão no individuo.
---
– Bernheim
França (1840 -1919)
Descreveu o fracionamento. Dizendo ser necessário 5 sessões para se atingir o ponto ideal para tratamento.
Médico, descobriu que se desse uma sugestão sob hipnose para voltar às 10 horas em 13 dias, o paciente iria aparecer no momento exato sem mostrar lembranças de receber esta sugestão.
Estudou e escreveu muito sobre sugestões hipnóticas.
---
– Charcot
Jean Martin Charcot
França (1825 -1893)
Médico e cientista, foi professor de Freud e fundador da moderna de Neurologia.
Durante as suas investigações, Charcot concluiu que a hipnose era um método que permitia tratar diversas perturbações psíquicas, em especial a histeria.
Utilizava estímulos fortes e súbitos para induzir ao transe, conhecidos como Toques de Charcot.
Descreveu os estágios do Hipnotismo:
Letargia – sono leve
Catalepsia – paralisia dos músculos
Sonambulismo
---
– Freud
Sigmund Freud (Sigismund Schlomo Freud)
Austríaco (1856 -1939)
Médico neurologista criador da psicanálise.
Embora Freud tivesse usado a hipnose desde que abriu seu consultório em 1887, ele inicialmente usara a técnica simplesmente para remover sintomas por intermédio da sugestão. Quando encontrou resultados desapontadores, ele mudou para o método catártico (A catarse representa a cura de um paciente, que é alcançada através da expressão verbal de experiências traumáticas recalcadas.).
Não prosseguiu com o estudo sobre Hipnose porque buscava um método de associação livre, dando origem à Psicanálise .A hipnose dependia de sugestões para ser aplicada.
No final da vida chegou a escrever. "Neurose é a base de todos os problemas e a razão para estes problemas está profundamente escondida no subconsciente. E com técnicas ainda a serem desenvolvidas chegaremos a estas causas."
---
– Elman
Dave Elman (Dave Kopelman)
EUA (1900 -1967)
(Não era médico) Referência na Hipnose Clássica. O pai da hipnoterapia.
Conhecido hoje como autor de um livro sobre hipnose, Hypnotherapy (1970) e pela a indução hipnótica que leva o seu nome, "Indução de Dave Elman" que utiliza métodos de relaxamento para alcançar o estado de hipnose.
Ganhou a fama do hipnotista mais novo e mais rápido do mundo. Posteriormente como criador de uma indução a prova de falhas.
Foi radialista (programa HobbyLobby) nos EUA e compositor de canções populares antes de se destacar na Hipnose. Com 8 anos perdeu o pai que era hipnotista amador e lhe deixou uma pequena biblioteca com livros para estudo sobre Hipnose. Criou sua indução com 12 anos de idade.
---
– Erickson
Milton Erickson
EUA (1901 -1980)
Psiquiatra especialista em terapia familiar sistêmica e uma das autoridades mundiais nas técnicas de hipnose aplicadas à psicoterapia.
Marcado pela poliomielite, ele deu mais liberdade aos pacientes e criou a hipnose moderna (Hipnose Ericksoniana).
Fundador da American Society of Clinical Hypnosis.

17. Como aprender Hipnose Real?
– Escolha o professor
Didática! Escolha um professor com a melhor didática possível porque para aprender hipnose é essencial. Não adianta o professor ser ótimo para hipnotizar se não souber ensinar.
Avalie também seu conhecimento, sua linha de formação, ele deve dominar o assunto ao ponto de conseguir responder perguntas sem enrolar.
Preferencialmente que seja formado por mais de uma escola de hipnose, no brasil e no exterior, assim ele terá bagagem para compartilhar de diferentes interpretações sobre as técnicas.
– Escolha o segmento
Hipnose para Entretenimento, Hipnose Clínica, Auto-Hipnose… Hipnose Clássica, Ericksoniana, Não verbal..
O mais recomendado é estudar Hipnose Clássica para Entretenimento ou Clínica. A Auto-Hipnose pode vir como um complemento posteriormente.
Por este caminho, a curva de aprendizado provavelmente será melhor.

– Escolha o formato
Online ou Presencial?
Cursos presenciais normalmente são realizados no formato de imersão, onde os alunos passam e 2 a 7 dias seguidos (depende do conteúdo programático de cada curso, alguns são mais básicos outros mais completos) em uma jornada de 10 horas diárias em sala, exigindo muita dedicação dos alunos para um ritmo pesado (mas valioso) de aprendizado contínuo.
Cursos de 2 ou 3 dias de Hipnose Clássica para Clínica, geralmente são focados técnicas básicas (mas suficientes para já sair praticando) sem muito tempo para praticar em aula.
Cursos de 2 ou 3 dias de Hipnose Clássica para Entretenimento, costumam ser mais completos, esta carga horária é suficiente para aprender hipnose para shows. Não é comum haver cursos com extensão acima de 3 dias para entretenimento.
Cursos de 5 a 7 dias de Hipnose Clássica para Clínica, geralmente são mais completos e com mais tempo para praticar e aprender.
Por ouro lado, Cursos online permitem uma flexibilidade maior no estudo mas uma dedicação igualmente valiosa. Não adianta fazer uma aula por semana.
É possível encontrar cursos que variam de 5 à 100 horas/aula. Quanto maior for a carga horária, desde que seja um bom professor, melhor o curso, claro!
– Escolha a escola
Avalie qual é a estrutura de apoio que a escola oferece durante mas principalmente após o curso.
Você certamente precisará de apoio pós-curso porque é natural que surjam dúvidas na hora de praticar e neste momento, ter ajuda disponíveis para acessar é fundamental.
É muito comum encontrar grupos de telegram ou facebook para alunos mas ter uma equipe de suporte por telefone e whatsapp, ou ainda um portal com demonstrações gravadas para modelar, pode fazer a diferença.
– Sobre o investimento
Este referência de preços abaixo contempla apenas cursos considerados bons ou ótimos, com professores e/ou escolas reconhecidas neste mercado e a variação esta relacionada à marca e região.
Cursos presenciais de Entretenimento, custam entre R$ 1.000,00 e 3.000,00.
Cursos presenciais de Clínica, custam entre de R$ 5.000,00 e R$ 15.000,00.
O investimento em um curso de Hipnose Clínica é maior porque além de aprender hipnose, você também aprenderá métodos de terapia que funcionam em conjunto, este conhecimento pode ser utilizado como ferramenta de trabalho gerando retorno financeiro. Uma única sessão de hipnoterapia clássica custa entre R$ 300,00 e R$ 1.300,00.
Cursos online variam muito de acordo com a carga horaria, você vai encontrar entre R$ 300,00 e R$ 3.000,00.

Conclusão
É sim possível assumir o controle sobre a mente humana e a hipnose possibilita isso, mas só existe uma pessoa capaz de controlar a mente de alguém, a própria pessoa.
Hipnose não se trata de uma controlar a mente de outra pessoa, mas de assumir o controle sobre a própria mente e assim sobre a vida, o poder de conduzir e mudar a própria vida.
Um grande abraço e Muuuuito Beeeeem!!!